Condo Home Theatre Systems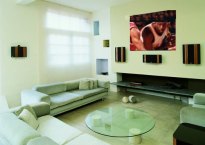 Relaxing in your condo apartment isn't necessarily a challenge if you've got some essential tools. A flat panel TV, decent audio that connects to your digital audio and video library, and a nicely engineered set of electronics can make this a pleasure.
LCD or Plasma Flat Panel TV?
Compare before purchasing; it helps to go through home stereo receiver reviews to assess the benefits you need for a home stereo.
Let's start with your TV. Perhaps the biggest problem is that there are simply too many choices. Let's narrow that list down a bit by opting for a flat panel LCD TV instead of plasma screen. Plasma televisions dominated the large screen market over the last several years, but that is changing. Plasma screens have two big negative issues: they are frequently hotter than LCDs, and are often prone to the dreaded image burn-in where things like station logos can burn into your screen. It's possible to prevent this by tooling with a plasma TV's screen-saver features, but many folks don't. The real disadvantage can be that image burn-in is just not something that manufacturer warranties are going to cover. Unlike LCD televisions, plasma sets use tubes, and heat put out by the tubes contribute to image burn-in problems.
LCD flat panel TVs can have another advantage. Many have DVI (digital visual interface) hook-ups that let you connect the set to your PC or Apple computer for use as a super-sized computer monitor. Pretty awesome stuff.
Your Budget
You'll need to assess your budget before going shopping for a flat panel TV. Prices on plasma sets are dropping (for some of the reasons alluded to above), but so are those on LCDs. But you'll also need to factor in other costs like speakers, a DVD/CD player, installation, and digital cable. In addition to visiting chain stores like Circuit City, Best Buy, or CompUSA, do yourself a favor and check out high-end video and audio stores too. Sound by Singer and Harvey Electronics are two reputable dealers worth visiting. Their prices may be higher, but their salespeople are generally far more knowledgeable about the products, and can explain their differences without making you feel that their simply trying to meet a sales quota.