Storage Solutions For Your
New York City Apartment
Whether you recently moved to Manhattan, or lived here for some time, chances are pretty good that you've accumulated a lot of stuff.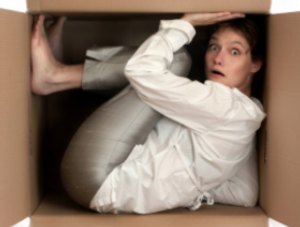 Where are you going to put it? Some condos and co-ops offer residents storage units in their apartment buildings. This perk may not only be hard to find, but it can also cost a premium if it exists.
That's where renting a self-storage unit might be the perfect solution for cleaning up (or simply 'relocating') your clutter.
Mini-storage companies in New York City offer monthly rental bins in a wide variety of sizes. Their amenities, configurations, and monthly fees vary widely.
Here are NY-Condos.com's tips on what you need to know when looking for a mini-storage facility in New York City: -->
Convenient Storage Locations Cost More Money
If you don't mind schlepping to the Bronx, Brooklyn, Queens, or New Jersey to store your stuff, you can get a hefty discount off of higher-priced Manhattan self-storage rental fees. The same is true for self-storage lockers within Manhattan. If the storage company is located near a subway or in a residential neighborhood, expect to pay higher rental fees than for a similar-sized storage unit in a commercial or warehouse district.


Make Sure You Have Your Own Insurance Coverage
How comfortable do you feel spending money to replace your wedding dress or Pez® collection? Chances are pretty good that the self-storage company you want to use has you waive any legal right to replace your stuff if it gets damaged. Even if the company does offer insurance, the policy is likely to exclude the things that occur most often (e.g., damage from water, mold, fire, rats, mice, and other creatures). Check with your insurance carrier to see if your policy will extend coverage to a self-storage facility away from your condo apartment, and if there is any additional premium for such coverage.


Are The Hours Convenient?
A lot of people either don't plan to, or don't need to access their self-storage units on weekdays. Your storage facility should have convenient hours that fit your schedule. If it's staffed 24/7, are there an adequate number of staff there at all times?


Safety & Security
Is the storage facility well lit? Are there video monitors and keyed elevators? Check with the local police precinct to see if there were any violent crimes committed in the area.


Paying Up Front Ahead of Time Can Save You Money
Most self-storage facilitities operate on a month-to-month basis. If you negotiate an annual contract, however, you can probably get a health disccount